3 December, 2018
SPOT On: The Satellite Tracking Device that has helped save thousands of lives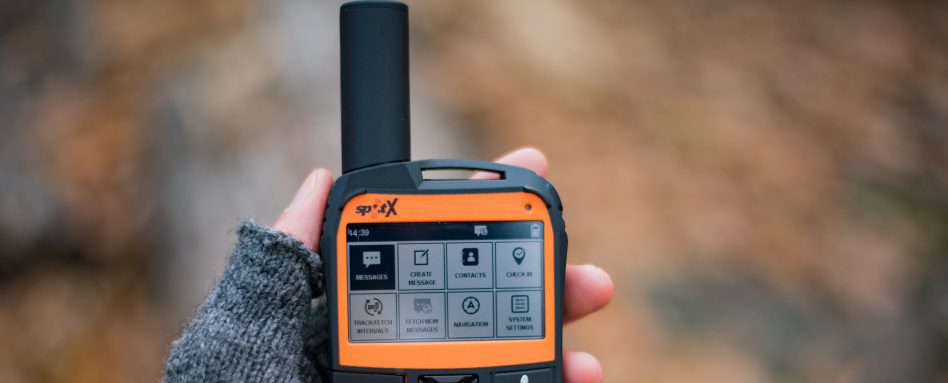 Text and photos: Daniel Baylis
Picture this: you're out on a hike with a friend. He slips on a loose boulder, tumbles 30 metres down a ravine, hitting his head hard as he falls. You scramble down the slope to help him and discover that he's drifting in and out of consciousness. You're about four kilometres from the trailhead, where your vehicle is parked. He's a big guy. And while you might summon enough Herculean strength to drag him a kilometre, you need to go much further than that. Also, night is coming, it's getting cold and you have no mobile service.
You could go for help. But if you leave him alone, you don't know what might happen: he could choke on his tongue or have a seizure. The situation is clearly bad.
What do you do?
In the backcountry, circumstances like this happen. Fortunately, we now live in an age where help can be summoned from virtually every corner of Earth.
Introducing SPOT
The SPOT Two-Way Messenger is a device that uses satellite networks to enable users to track and share their progress, send and receive SMS messages and notify emergency services if help is needed. Of the various features of the little orange device, perhaps the most notable is the SOS button that can summon help in the event of an emergency. Coverage includes a vast portion of the planet. (For details, see SPOT coverage on this map.)
Beyond the SOS feature, SPOT enables users to send and receive messages, notify friends and family of GPS positions and status, and even update social media platforms. Over the years, recreational outdoor enthusiasts, athletes, government agency employees, lone workers, photographers, National Geographic explorers, and researchers are just some of the people who have used SPOT.
In Canada, SPOT is distributed by Globalstar Canada Satellite Co. Since 2007, SPOT has proven to be a proven and affordable communications and emergency notification solution to those who work or travel beyond cellular. And they have a proven track record of enabling adventurers to access help.
Why do I own a SPOT Device?
As an official photographer for the Trans Canada Trail, my travels frequently bring me to corners of Canada where mobile service is limited or unavailable. My SPOT X device is a form of personal assurance.
A few weeks ago, I embarked upon a solo road trip across Alberta. I was in my element: visiting various sections of the Trans Canada Trail, photographing the changing seasons, sleeping in my car at night. Being alone is a double-edged sword. While I have the freedom to structure my day as I please and move at my own pace, it also presents some safety concerns. On one particular afternoon, I was west of Peace River, hiking a section of the Trail with no cellphone coverage and massive mounds of fresh bear scat. I employed proper bear protocol by progressing slowly and making my presence known through singing loudly (which is generally enough to scare most living things away).
Unfortunately, we can't always sing ourselves out of sticky situations, so the knowledge that I had an "SOS button" at my disposal provided me with an extra form of psychological comfort. Owning a SPOT X device doesn't mean that I make reckless choices. But I do feel safer knowing it's there – and it also helps my mother sleep better at night.
Real world examples
To date, SPOT devices have helped initiate more than 6,100 rescues worldwide —approximately a third of those rescues have been initiated right here in Canada. The SPOT website has stories (many of them incredibly harrowing) of rescues that were initiated from adventurers using the devices.
Take Darrel Comeau, for instance. He was on a four-day remote climbing trip in Willmore Wilderness Park (a 4,600-square kilometre natural area in Alberta) when an infection suddenly started blocking his airway. Outside of cellular reception, he used his SPOT device to obtain appropriate medical support.
Early one winter morning, Adam Noah, a hunter from Baker Lake, Nunavut, headed out on his snowmobile for a day of caribou hunting. By the middle of the afternoon, when he was in a remote area about 45 kilometers east of Baker Lake, his snowmobile broke down. The temperature in that area was -40° Celsius. "I was alone and realized my snowmobile was beyond repair," Noah explains, "I knew I was in trouble. I clicked the SOS button on my SPOT device." A couple of hours later, he was rescued, fortunately without any injury.
Paleontologist Allison Stegner was surveying an area littered with dangerous slopes and sandstone blocks. As she stepped off a 300-pound block, it began to slide and in a matter of seconds, trapped and crushed her foot against another large rock. She was trapped. Within two hours of activating her SPOT device, a rescue team was able to track her geolocation. At the hospital, it was determined Stegner had a broken ankle. She credits her SPOT device for making a bad situation less traumatic than it could have been.
But is a SPOT device for you?
The short answer is that it certainly doesn't hurt to have a satellite-based communication device as part of your emergency preparedness gear, for any outdoor adventure that might take you off the grid. If you're using the Trans Canada Trail in urban centres or along high-trafficked trail sections – for example, Nova Scotia's beautiful Salt Marsh Trail or BC's majestic Sooke Wilderness Trail – a rescue device is probably not necessary.
But maybe you're planning an excursion on the Dempster Highway or thinking of paddling sections of the Lake Superior Water Trail. Both of these iconic Canadian journeys have sections where mobile service is limited (or simply non-existent). A SPOT device might be a helpful tool to have in your gear bag.
When a SPOT device might be appropriate:
You trek in areas that provide no mobile coverage, or you want a reliable back-up to cellular
You sail or deep-sea fish
You travel frequently, and want options to update social media without buying regional SIM cards
You are fascinated by satellite technology
You have a penchant for handsome orange things
If you're anything like me, you take sensible precautions when embarking upon an adventure, but you don't invest a ton of time in envisioning everything that could go wrong. Instead, you prefer to focus on the benefits of getting outdoors: the opportunities to see new landscapes, to challenge your body, to expand your understanding of this planet.
So, let's all go exploring – but respectfully and safely.
The Specs
Product: SPOT Satellite Messenger
Website: findmespot.com
Instagram: @spot_llc
Twitter: @SPOT_LLC
Official hashtag: #SPOTSavesLives