6 May, 2019
Let's Go Biking: Avid cyclist self-publishes cycling guide for the Trail in Vancouver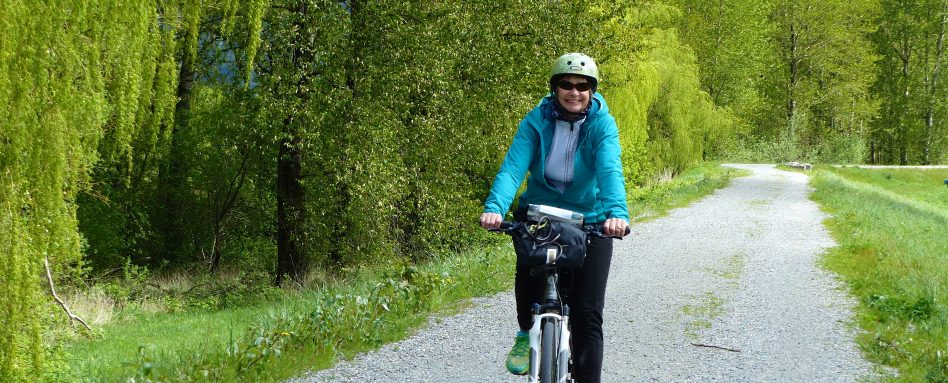 On her frequent bike rides in the Vancouver region, cycling enthusiast and TCT donor Colleen MacDonald always takes pride in introducing The Great Trail of Canada to her friends.
"When I go out cycling with other ladies, I might say: 'We're on The Great Trail right now!'" she says. "They might seem puzzled at first, but they are glad that they are there."
Colleen's passion for the Trail began shortly after its launch, when she started using it near her home in Vancouver. Over time, she became known as an advocate for the Trail sections in her locality. However, she only started the Let's Go Biking blog in 2010, when one of her friends asked her to suggest 10 easy rides for her children.
"As the kids grew up, I explored other easy routes and now have over 125 rides on the blog," Colleen says. "The rides are easy and popular with families, seniors and those who like to stop and smell the roses."
A view  from the Trail at Glen Valley that appears in Colleen's book. Photo: Cheryl Papove
However, Colleen's enthusiasm for The Great Trail goes beyond her home province.
"Whenever I travel in Canada, I always look to see if there's a section of The Great Trail nearby," she says. "When I was in Moose Jaw, I was so excited when I saw that there was a section of the Trail there."
"Even when my husband and I went on a houseboat trip along the Rideau Canal, we found Trail sections like the Cataraqui Trail," she adds.
One of Colleen's favourite moments along the Trail outside British Columbia was in Nova Scotia, where she and her husband cycled past their ancestral homeland on Cape Breton Island.
"My husband's family have a farm that was build in the 1800s, and we can see it from the Trail on the way to Inverness," she says.
Colleen on the Trail in Inverness, Nova Scotia. 
This year, Colleen is going one step further to promote the Trail in her area. She is now publishing a book called Let's Go Biking, a cyclist's guide to The Great Trail in the metro Vancouver area.
"The book is a labour of love. It's a legacy project for me," she says. "The guide is self-published and I'm not keeping the profits."
The proceeds from the book will be donated to Trans Canada Trail, Trails BC, Hub Cycling and the British Columbia Cycling Coalition.
"That money is going to the improvement and maintenance of the Trail. I'm so grateful that we have so many great cycling routes in British Columbia," she says. "I'm so proud that we have the Trail in Canada."
Trans Canada Trail is a not-for-profit organization. If you value our work, please consider supporting us on thegreattrail.ca/help