6 September, 2016
A Filmmaker's Take on the Trail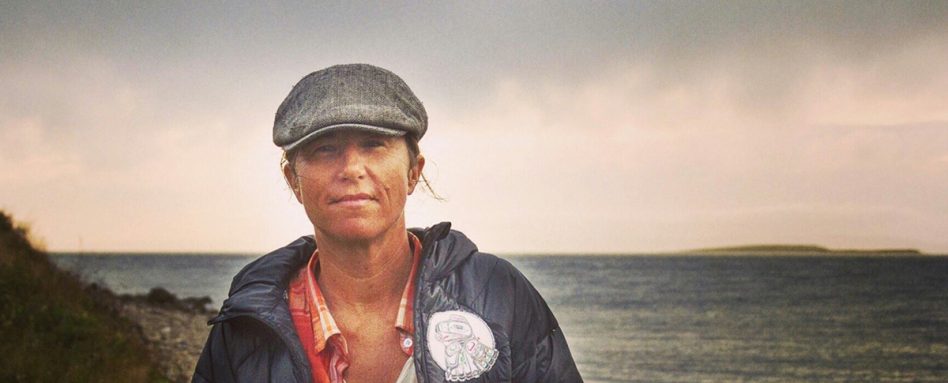 Last June, filmmaker Dianne Whelan cycled along the Trans Canada Trail near Sainte-Anne-de-Madawaska, New Brunswick, with her helmet slung over her handlebars. A small bird, with a tuft of yellow feathers jutting from its head, sat on the rim. It took an occasional downward glance toward the inside of the helmet, where Whelan had made it a nest of grass and dandelions. She had found the creature lying on the trail as if dead, but when she'd gently picked it up, she'd felt its heart still beating. After an hour of travelling with Whelan, the bird gained enough strength to fly away.
Whelan captured this moment with a GoPro camera that was mounted on her bike. It was exactly the type of unforeseen "everyday magic" she was aiming to record during her 23,000-kilometre trek across the Trans Canada Trail by foot, bicycle, snowshoes, skis, kayak and canoe. She set off from St. John's, Newfoundland, on Canada Day in 2015 and will end her journey in British Columbia. She plans to share the experience in a documentary film and a book. They're both a long way from completion, but she knows they'll address the themes of art, story, ecology and spirit.
Photo credit: Dianne Whelan
One year and one month into the project, Whelan has come only as far as Quebec, proving its working title, 500 Days in the Wild, was a vast underestimation. "It shows how my mentality has changed since I started," she says. She initially pushed herself to follow a demanding schedule but soon decided to let go of that burden and focus more on the moment. "I would encourage everyone using the Trail to do the same, whether they're going out for an afternoon, a day, a week or a crazy trip like mine," she says. "It isn't something to conquer; it's something to explore."
At 51, Whelan is healthy and reasonably fit, but she doesn't consider herself an athlete. What one really needs for a trek like hers, she says, is mental flexibility. For instance, she had originally intended to do a lot of cycling in Newfoundland but quickly discovered that long stretches of the Trail there were covered with ballast rocks from when they used to be railway beds. "I realized I was going to be pushing my bike more than riding it, and I had to surrender to that," she says. "As soon as you do, then you're not frustrated anymore. That's one of the gifts of this adventure: it forces you to stay level."
Whelan begins each day in her tent, brewing coffee and writing notes for her book. While travelling, she stops to shoot film and photographs, talk to people she encounters or just enjoy a beautiful view. She also checks in with various friends and collaborators who keep an eye on her GPS signal, help her with logistical issues and occasionally meet up with her to back up her film footage and bring supplies. "When I began… I thought only of the solitude I craved," Whelan blogged one day last April. "But on a windy day [in New Brunswick's Fundy National Park], I watched tree trunks stay solid as all their branches blew wildly in the wind, and I realized it was so because beneath the surface, their roots are entwined into each other… No tree really stands alone. Nor can we."
Dianne Whelan Walking in Fundy Park
Before turning her attention towards the Trans Canada Trail, Whelan filmed documentaries in the Canadian Arctic and Mount Everest's base camp. Like many Canadian creators before her, she finds inspiration in the natural world. The sound of an owl or the sight of morning light might suddenly prompt an insight or an impression worth sharing. "You're connecting to a large, living ecosystem out there," she says. "You don't even have to be intellectual about it. It just happens, intuitively."
Whelan has also been inspired by the people she's met along the way, many of whom have offered her practical and moral support. "I've been humbled by the openness of the First Nation communities where I've stopped, and the exchanges I've had with them," she says. "The same goes for the Acadian communities and the Gaelic ones, the French-Quebec ones and the English ones. We have a tapestry of different cultures in our country, but one consistent thing is everyone's kindness." the Trans Canada Trail's symbolism resonates with her for a similar reason: "For all of our diversity, we're connected by the land."
Grateful for all the work that has gone into creating the Trans Canada Trail, much of it by volunteers, Whelan hopes to offer something of value to others in return. "I'm at an age where if I'm going to spend years on a piece of art, I don't want to bring people down," she says. "I want to leave something that makes them feel good and inspires them in some way. Beyond reaching my destination, that's the goal."
To read Whelan's blog, visit 500daysinthewild.com.